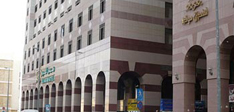 View photo gallery
Photo 2
Photo 3
Photo 4
Photo 5
Photo 6
Photo 7
Photo 8
Photo 9
Photo 10
Photo 11
Photo 12
Photo 13
Photo 14
Photo 15
Photo 16
Photo 17
Photo 18
Photo 19
The Al Haram Hotel is a luxurious retreat with direct access to the Holy Mosque open space for your convenience. The architecture of the hotel syncs beautifully with the religious environment of Madina, with interiors featuring a well-matched design and décor for a soothing experience. The hotel offers sophisticated facilities and customized services with a home away from home ambiance.
View photo gallery
Photo 2
Photo 3
Photo 4
Photo 5
Photo 6
Photo 7
Photo 8
Photo 9
Photo 10
Photo 11
Photo 12
Photo 13
Photo 14
Photo 15
Photo 16
With its central location, Al Madinah Harmony Hotel is within easy reach of most tourist attractions and business addresses in Madinah. All hotel's guestrooms have all the conveniences expected in a hotel in its class to suit guests' utmost comforts.
This hotel is characterized by a combination of modern comfort and traditional element of Madinah, making it a distinct accommodation.
Saraya Taba Hotel is located within 5 minutes' walking distance from Al-Masjid Al-Nabawi in Madinah. There is a 24-hour front desk, a safety deposit box, and a restaurant offering room service. Free Wi-Fi is available in public areas.
The rooms are decorated with white and orange colours. They are air conditioned and feature a flat-screen TV, a fridge, and a tea/coffee maker. Wake up service is available as well. Some rooms have a view of the masjid.